21 September 2019: Copperplate Majuscules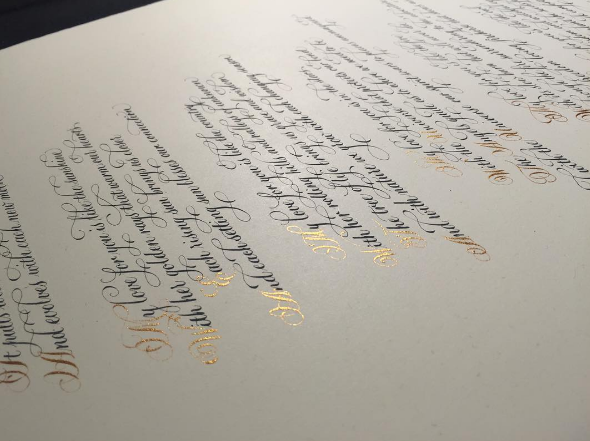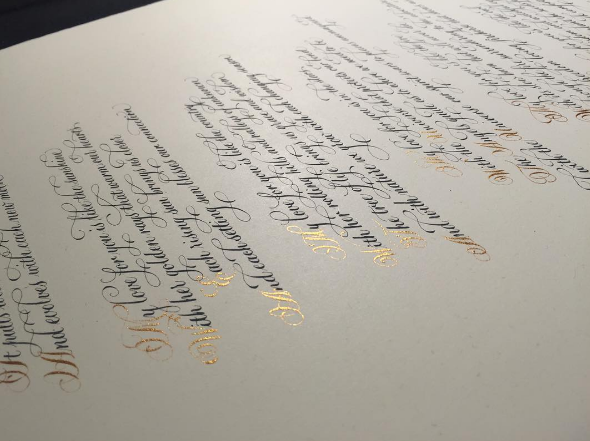 21 September 2019: Copperplate Majuscules
Saturday, 21 September 2019
2pm to 5pm
BRUNSWICK, MELBOURNE
Copperplate Majuscules for Beginner & Intermediate
Copperplate capital letters are ornate, elegant, and beautiful, and truly add an elegance to your script. But they are not easy to master - that's where I can help!
This class is for those who have some experience with a pointed pen - or for those who have just completed the morning class. We will hit the ground running in the expectation that everyone knows how to use their pen and understands the basic strokes of the copperplate minuscule letters.
The majuscule alphabet is less simple to learn than the minuscule alphabet, and in this compressed class we will cover all the broad strokes. I will teach you how to study capitals, and provide handouts with my own preferred capitals and their flourishes for you to study both in class and afterwards on your own.
Depending on the group level of ability, we will also be able to approach structure, proportion, and shade weight, identifying the forms that can be worked on as a group and spending most of our time on perfecting these basic strokes - and some flourishes that I can teach you to apply to many letters to give your majuscules a unified look and feel.
The goal of this session is to equip you to break down the proportions yourselves and further your study once you are home.
As usual, places are limited to ensure I have plenty of time to spend with each student.
To bring: Your oblique holder and preferred nib. (I can also provide this for you if you don't have one - just send through an email and we'll chat!)
Provided: Paper, exemplars, instructions, and ink, and my preferred nibs - so everything else that you need. (If you have attended the introductory class in the morning, you will already have everything that you need.)
This workshop runs from 2pm to 5pm. Please be on time - we have a lot to cover and we won't be able to run late!
Please note: Refunds and cancellations are not possible! However, if you can't attend, you can certainly transfer your enrolment to another person. You will need to negotiate with them directly and advise me of the change. If you can't transfer your membership, you can of course still pick up the kit.
If you have any questions or are a bit unsure, please contact me before you enrol!